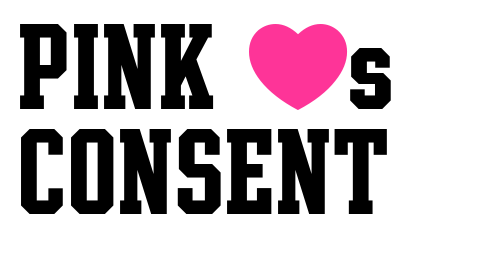 PINK loves CONSENT is more than a style. It's a revolution. PINK loves CONSENT is our newest collection of flirty, sexy and powerful statements that remind PINK panty-wearers and their partners to practice CONSENT.

CONSENT is a verbal agreement (say it out loud—no "body language") about how and when people are comfortable having sex. "Ask first", "No means no" and "Let's talk about sex" remind us that communication is the key to good sex. Pick your favorite slogan or write your own. Whatever you do, remember to practice CONSENT.

Join the next sexual revolution: PINK loves CONSENT.



Comments? Questions? PR@pinklovesconsent.com
Because PINK loves pleasure. And PINK loves power. And we believe that sex should be empowering and pleasurable for all people! On top of stopping you from having great sex, not communicating can lead to unwanted sexual experiences.
Join Now
Connect
EMAILS
Sign up for our email list:
Sign up for PINK Loves Consent emails join for the latest PINK news. And don't worry, we'll only send 'em when we've got something really good to say.
PINKLOVESCONSENT.COM
Visit us online to learn, participate, and spread awareness!
ON THE WEB